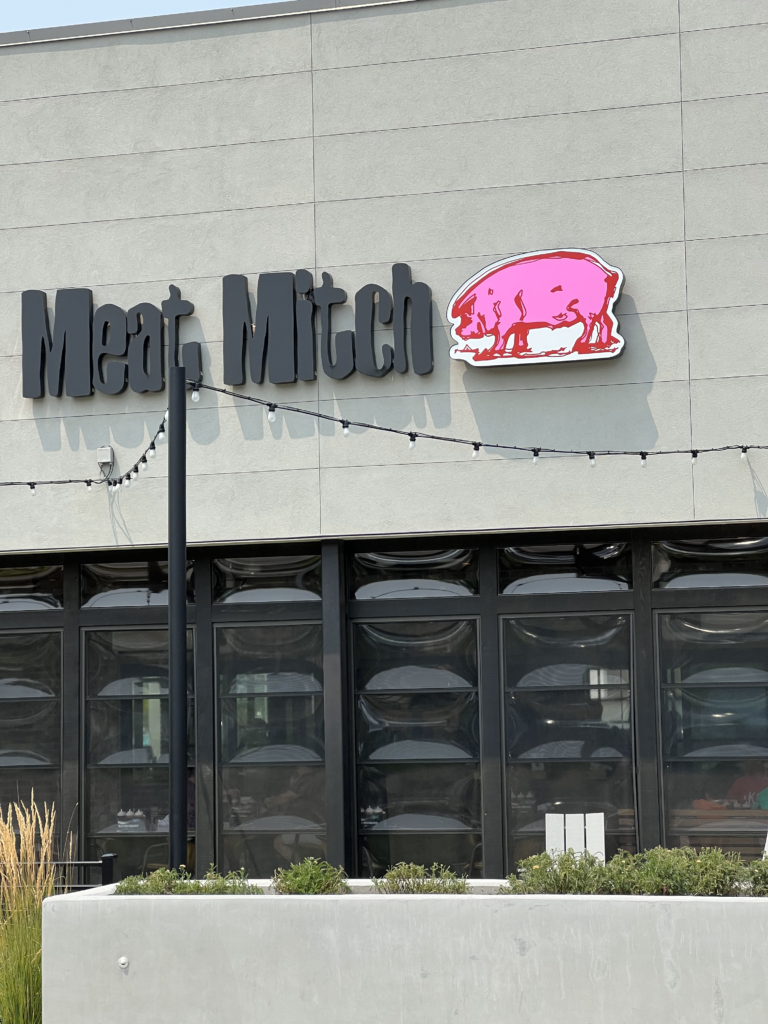 In a move that made just about every person from outside of Kansas City happy and some people within the city limits grumpy, Kansas City finally modernized its airport.  The old KCI was a marvel of what air travel could be before 9/11 forced airports to rethink (and in some cases implement) security, but it did not age well.  Travelers to KCI could expect limited terminal seating, little opportunity to charge electronic devices and absolutely no Meat Mitch.
Okay, so perhaps travelers expecting to find one of KC's new entries into the world of BBQ might sound a little strange.  Still, I can tell you that in today's KCI, once you get past security, you can find a seat and treat yourself to, hand's down, some of the best airport food I've ever had.  Also, if you fortunate enough to live in Kansas City, you can also drive to the 95th and Mission area and eat at their non-airport location which doesn't require a pricy ticket to enter.
If you know much about the Kansas City BBQ scene, you may know such interesting facts as Kansas City has more BBQ restaurants per capita than any other city in the world, that people who say Texas BBQ is better are simply wrong, and that new Kansas City BBQ restaurants open pretty much every month. For my part, I tend to stick to my familiar haunts: Jack Stack when I want great sides, Joe's Kansas City when I want the best meat, and Q39 when someone has heard how good Q39 is.
I wasn't looking for a new BBQ place when I tried Meat Mitch at KCI, but I definitely found a place I could love just as much as anywhere. First, the meat is very high quality. The brisket is tender and smoky and the burnt ends are juicy and melt in your mouth while delivering that high smoke flavor. The ham is salty and sweet and the turkey is never dry, always velvety and has just the right amount of seasoning.
But put all that aside for a moment because Meat Mitch has curly fries. And they have six different sauces. At the airport, the curly fries were crispy, perfectly seasoned, and pillowy in the middle. At the restaurant they were all that and lightly seasoned with hot honey.
And how better to eat fries than with six sauces? Their selection includes Whomp! BBQ sauce, naked sauce, table sauce, heat, mustard, and Alabama white sauce. They also had ketchup. (Actually, they didn't have the white sauce at the airport, but they did have it at their restaurant and it was good.) So, basically what I did at the airport and the several times we've been to their non-airport location is do my best mad scientist impression and start mixing sauces together to form the ultimate mix.
Fries go into the ultimate mix. Meat goes into the ultimate mix. The salmon I ordered on my salmon salad with into the ultimate mix. Basically, everything but the ice tea gets dunked in ultimate mix.
In case you're wondering, for my money, the best mix is two parts table sauce to one part each mustard and hot sauce. Still, I encourage you to check out Meat Mitch, concoct your own sauce, and then let me know what I need to try next.
Also, if you worry about what to order other than the fries (which I can't speak about highly enough), get a two-meat platter with burnt ends and another meat of your choice. You will get two sides (I recommend baked beans and the bacon-broccoli slaw) and then get a full order of fries on the side. Add your favorite sauces and you will not be sorry.
So whether you are heading for 95th and Mission or are arriving at the airport an hour earlier, check out Meat Mitch. Enjoy!