Hen House CSA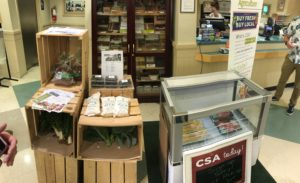 It's been a while since the Blog Well Done family has been part of a Community Supported Agriculture (CSA) program. If you're not familiar with CSA programs, you basically buy a share of a locally-owned farm's output in return for a guaranteed amount of their output during the season.
The farm's happy because they have cash flow and your belly is happy because you get some good vittles.
Yes, I said vittles.
Anyway, for years, Hen House has been featuring a CSA program that's a little different than the CSAs we've joined in previous years. Their CSA program allows you to take shipments of several different local producers offering not just vegetables and fruit, but rice, meat, eggs, and other items, too.
I like the program a lot because it allows me to try different items from local producers that I might not otherwise eat. It also has helped the BWD family overcome our biggest objection to the CSAs of old: lettuce.
No, seriously. Our past CSA delivered us a lot of food we really like and a whole bunch of fancy lettuce we absolutely wanted nothing to do with. See, Mrs. WellDone loves salads, but doesn't like bitter lettuce and I've always felt that lettuce isn't food. Lettuce is what food eats.
Points!
How does Hen House get around the tyranny of lettuce? They have a point system for their CSA that means I never have to eat lettuce again! Instead of receiving the same bag of goods each week, at Hen House I get so many points and I can trade those points around to buy just the foods I want (or more likely, just the foods BWD, Jr. will eat.) Anyway, it's a nice touch that I'd heard about, but never really considered until standing in front of the display for the first time wondering if I wanted 1 Good Natured Family Farms chuck roast or like 7 more bunches of chard. (Spoiler alert: I got the roast.)
With all that said, the next few months are going to be delicious. I was already pretty enamored with Good Natured Family Farms' meats (I have no affiliation with them, by the way, I just like their stuff.) Now, I get to eat a lot more of it every week and tell you all what I did.
So please check back. There will be plenty to enjoy!
(Oh, and clearly the fact that I've not paid into the CSA program in exchange for this series of blog posts means that this is a sponsored post.)