Are You Ready for More Sautéed Kale?
Our little garden is trucking along!  The peas are just about ready to harvest, baby tomatoes are growing on the vine, and the kale and collards are still going strong.  This is the first year that I have had the time to really put into the garden and I have so enjoyed being able to go out and pick fresh food to use in lunch the same day.  Today is a Friday, which is the furthest day of the week from grocery shopping, so lunch had to be a little creative today, but I found another new recipe with the kale!
Sautéed Kale with Farro and Bacon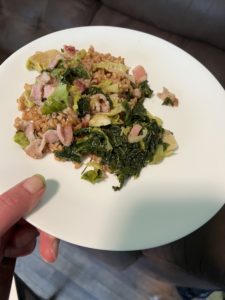 We have been on a health food kick, so we have been trying to eat more veggies and whole foods.  As I was looking in the fridge, I found a half a bag of Brussels sprouts, some bacon, and remembered we had a little farro left in the cabinet.   If you have never had farro, don't fear!  It is delightful.  Imagine rice, but a little chewier and a little more nutty and a whole lot healthier!   I took all of those things and some kale from the garden and made this quick saute for lunch.
You will need:
For Farro:
2 cups broth (beef or chicken)

1 tsp. Garlic powder

8 oz. farro (make sure you get pearled farro)
For the saute:
8 oz bacon

1 lb. Brussel's sprouts

7 good sized leaves of kale

2 Tbs. olive oil

½ tsp salt

½ tsp black pepper

1 tsp garlic powder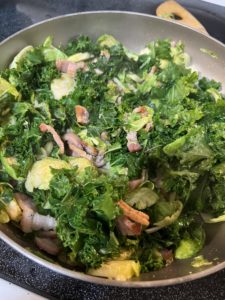 Farro
To make the farro:  In a medium saucepan, mix the garlic powder and broth.  Bring to a boil.  Once the broth is at a boil, add the farro, stir quickly, cover the pot, and turn burner to low.  Let sit for 25 min.  At that point the water should be absorbed and the farro is ready to serve.
Sautéed Kale with Bacon
To make the saute:  Pour olive oil into a medium skillet.  Slice the bacon and Brussels sprouts and add them to the pan.  Saute on medium high heat for about 4 minutes to get the cooking process started.  Tear the stems out of the kale and rip the kale into small pieces.  Add the kale, salt, pepper, and garlic powder to the skillet and stir.   Cover and saute on medium low for about 15 minutes.  Once the bacon is cooked through it is ready to serve.  Serve on top of the farro.
Enjoy!